Ah December. I'm almost done Christmas shopping-YES! I'm in the process of decorating; the tree is up but not one ornament hangs on it yet. I'm crazy with homework; this Google advanced class is far more work than I expected. I am learning a lot so that does make it worth it.
With all the homework I've still managed to read two books so far this month and both were "thrillers". I think I have to move away from this genre though for bedtime reading. One of the books gave me pre-sleep jitters...I got so involved with the characters and would continue to think about the situation while I trying to go to sleep.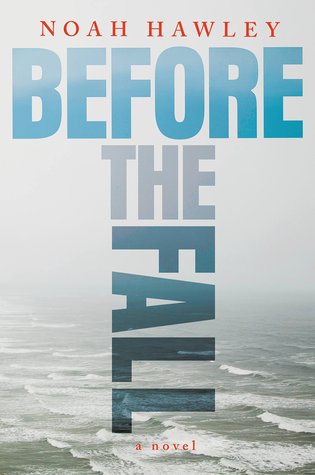 Before the Fall by Noah Hawley
(2016); This is the one. Something about Scott's character appealed to me because he was someone who was flawed and admitted it. The first scenes of him in the water with the young boy as they attempt to swim to shore were agonizing for me and I had to keep reading even though it should have been time to put the book down and get some sleep. Each section was a little like that. I appreciated Scott's philosophy throughout the book and felt attuned to the message that we all have a purpose here. So many interesting characters held together by an excited story line and the political commentary fits so well with what we are experiencing now! Chapters are done in alternating POV so you get to hear and understand from a variety of characters.
Zero Day by Jan Gangsei
(2016); I picked this out one afternoon with Groovy Girl at our local library. We were there on a mission to find some good books for her to read, not an easy feat, as she is a picky non-reader. Also she has an English teacher right now who is taking the joy out of the written word. But I digress.
Zero Day
takes place in Washington DC and Virginia and is focused on the political scene. Addie Webster, the then Virginia governor's 9-year-old daughter, is kidnapped one day right out of the governor's mansion. Eight years later she resurfaces. Her DNA checks out and she is reunited with her family in the White House. It's not an easy transition and it is difficult for Addie to realize that her family moved on even without her. Her kidnapper still has a hold on her though and so while she attempts to fit back into her family she also has to do some weird undercover assignments for her "father/kidnapper" who is the head of an international terrorist group. I like both Jan's writing style and the main idea but it all got a little far-fetched for me.