I read two excellent books this month; Yaa Gyasi's Homegoing and LaRose by Louise Erdrich. Both are family sagas retelling the stories of several generations.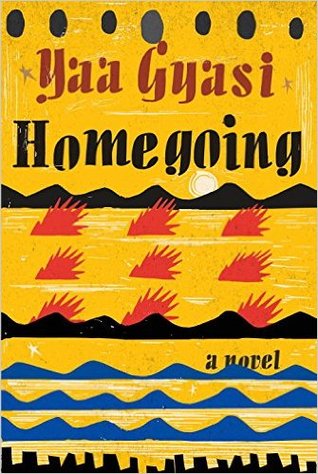 Homegoing traces two half-sisters born into two different villages at a difficult time in Ghana's history. Tribes are busy waging war against each other and collecting slaves to make money and win favor from the white Europeans.
Effia is forced to marry an Englishman and goes to live in the Cape Coast Castle. The marriage is a business deal arranged by Effia's mother to bring fortune to the village and to push her daughter away from the village and her intended husband, the chief Abeeku so that she may have a more profitable life.
Abeeku stood up so that he was facing her. He ran his fingers along the full landscape of her face, the hills of her cheeks, the caves of her nostrils. "A more beautiful woman has never been born," he said finally. He turned to Baaba. "But I see that you are right. If the white man wants her, he may have her. All the better for the village." (15)
Effia's half sister Esi is also promised in marriage to a man in her village. Her father is is a brave warrior, a Big Man, and she's grown up in being adored by her family and community. One night warriors come to her village and she is told to run into the woods where she sits in a tree but is still found and with pelting rocks hitting her she falls to the ground.
She was tied to others; how many, she didn't know. She didn't see anyone from her compound. Not her stepmothers or half siblings. Not her mother. the rope around her wrists held her palms out in supplication. Esi studied the lines on those palms. They led nowhere. She had never felt so hopeless in her life. (43)
And thus both sisters' fortunes are changed even as both are sold as product. Esi is chained up in the basement dungeon of Cape Coast Castle while her sister lives above. Eventually Esi is shipped off to work the American slave trade. Each chapter relays the tale of a descendent of each sister and in this way you are awarded this amazingly rich historical yet very personal account.
The
New Yorker review
(I liked it more than they liked it but it does a beautiful job of describing the era)
In LaRose Louise Erdrich gives the reader many parallels to Homegoing's history. American English did their best to negate both cultures. LaRose, told mostly through the present, tells the story of Landreaux and Emmeline's grief after a tragic accident kills their friend and neighbor's son, Dusty. Through back and forth chapters we understand the depth of the grief felt by both couples and through side stories Erdrich interjects the history of Emmeline's family and how tragedy and wisdom often walk together. The characters Erdrich brings to life are interesting and multidimensional.

Outside the circle of warmth, the snow squeaked and the stars pulsed in the impenetrable heavens. The girl sat between them, not drinking. She thought her own burdensome thought. From time to time, both of the men looked at her profile in the firelight. her dirty face was brushed with raw gold. As the wine was drunk, the bread was baked. Reverently, they removed the loaves and put them, hot, inside their coats. The girl opened her blanket to accept a loaf from Wolfred. As he gave it to her, he realized that her dress was torn down the middle. He looked into her eyes and her eyes slid to Mackinnon. The she ducked her head and held the dress together with her elbow while she accepted the loaf. (99)
Both novels illustrate the simple fact that women have been battling men for centuries. How brave and bold it is that we hope to raise our children to accept a different norm. I know I expect my daughter to be strong and resourceful and I expect my son to treat all women with due respect.
We read LaRose for book club this month and I celebrated by making this
Wild Rice Salad.
It was delicious and I would make it again. I'll read anything with Erdrich's name on it-I love her young reader's
Birchbark House series
-and read it with my school book club every year. One of my life goals is to read all of Erdrich's stories and to make it to her
Minneapolis book store.
New York Times review
for LaRose.
Happy October!!