September:
Going Wild
by Lisa McMann (2016): Charlie's whole life changes when she has to move from Chicago to the suburbs of Arizona. As she struggles to make friends Charlie discovers a bracelet among their moving boxes. Her life begins to change in very dramatic ways when she wears the bracelet. This is an exciting new series that will appeal to readers of Spirit Animals.
11/22/63
by Stephen King (2011): This book is 849 pages and it took me almost a month to finish it. I loved it. I also watched the mini-series and loved that as well. Jake Epping finds a ripple in time and tries to prevent the assassination of John F. Kennedy. I fell in love with the characters especially Sadie.
October: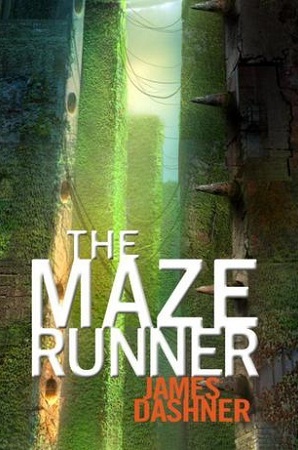 The Maze Runner
by James Dashner (2009): Thomas wakes up in the middle of the glade, surrounded by young men all just trying to survive in a world they know nothing about. Every day they run the maze trying to figure out what and where they are trying to keep one step ahead of the predator.
Hideout by
Watt Key (2017): Sam is struggling with his life after surviving a bullying attack at school. His father gives him a boat that he's supposed to use for fishing except he ends up exploring the small rivers around the Gulf Shores and finds a young boy living in an old shack. Sam helps Davey but once he does he their lives become too entangled.
Ghost Boys
by Jewell Parker Rhodes (2018): Oh this is a powerful story like
Jason Reynolds'
Long Way Down.
Jerome, a 12-yr-old boy, is shot and killed by a Chicago police officer who sees his play gun as a threat. He spends the rest of the book learning to heal and help the 12 yr old daughter of the police officer. Beautifully told through Jerome's voice and Emmett Till as well.
Harbor Me
by Jacqueline Woodson (2018): Woodson is one of my writing heroes and this book tackles current topics of deportation and racial profiling. Told through the eyes of 5 young teens, all struggling with something in their lives they are given the gift of time to talk as a group at school to learn from each other. Another amazing story by Woodson.
Friends for life
by Andrew Norriss (2015): I ordered this for school because it sounded like a charming little English story of a young man befriending a ghost. It is a charming story with a lot of depth about friendship and being unique. The young ghost, though, is Jessica, who commits suicide after her mother and grandmother die. I removed it from our shelves and know this book will find great readers at the high school level. Even though suicide is on the rise I don't want to be the one who introduces it to my elementary students. I did love the story and the brave cast of characters.
What are you reading? This week has been chilly giving me lots of time to read.