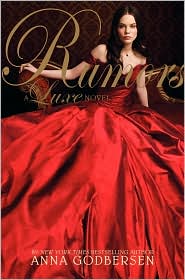 I finished
Rumors
, the second
Luxe
novel by
Anna Godbersen!
If possible, it was even more intriguing than the first one. I don't want to rehash the book because it's been out there for awhile but here is the tag line on the back of the book:
True love. False friends. Scandelous gossip. Welcome back to Manhattan. 1899.
You gotta love that dress as well although if I had a choice I would definetely pick the dress from book one! Penelope I am not!!
Since Elizabeth is "dead" the story focuses attention on Diana, who with her spunk and playful attitude is my favorite character. I loved crossing back to Elizabeth and Will's story and hearing about the California frontier. I prefer a good character-driven story but this one really has it all as the characters just feed into this incredible plot line.

I had to put the book down several times to scream, for joy and dismay.
This time I did not get to read it out loud to my husband (
click here for my post about The

Luxe

/reading to my husband
) but I did have to catch him up several times, read certain sections to him and
he was seriously stunned
when I finished reading it one night while he was away! Anna Godbersen put in an incredible amount of time researching this era, I think and I enjoying understanding more about this time period. Thanks again to
Janssen
for reviewing this series.
If you have not read this series and you enjoy historical fiction,
please
go out and buy a copy-the paperbacks are a very
reasonable $9.99-you will not be disappointed.
Harper Teen website click here.
Other highlights of the week.
Well, of course the Nobel Peace Prize-joy mixed w/ fear.
Lost my copy of
Keeping the moon
by Sarah Dessen-read it one day and the next it was poof!!
I have a new phone in my life-
the Propel in lime green
.
I am pretty excited even though I am not material type:)