I went to the library and picked up a so many delightful picture books off the shelf my bag was packed. I usually think I have to be with my friend
Tina
to overfill my bag but I guess I've proved that I can do it all by myself!
I was looking for ideas for school. The collection at my school library is still new to me so I go to the public library to look at the new shelf to see if it is worth buying and maybe it will work its way into a lesson plan.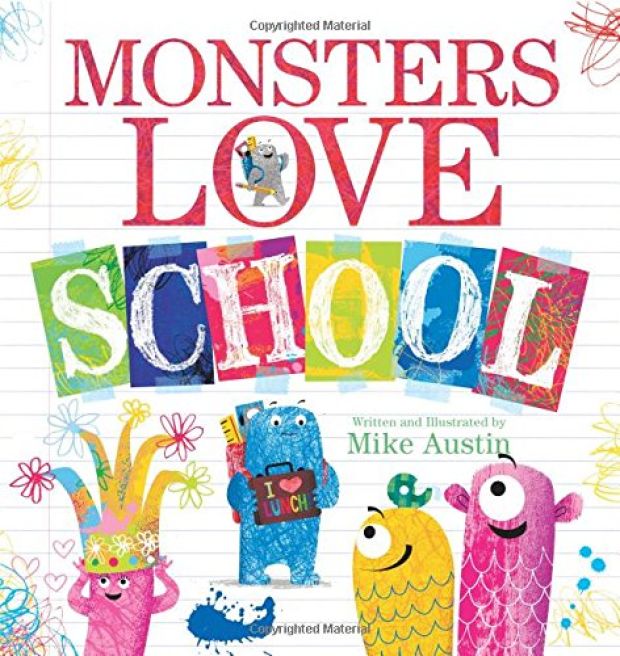 That's what happened with
Monsters Love School
by Mike Austin. What a delightful picture book. I read this to all my kinder and first grade students. It covers the exciting part of going back to school as well as the fears in a fun Muppet-kind of way. We compared monster's school experience with their own here at Hansen. The illustrations are filled with color and the writing is all over the page. We all loved Ms. Scribble the art teacher with her very clever head of hair. Please Mike Austin bring us more Monsters...they could love Halloween, or Winter, or the playground. Anything. Monsters and students say "more, more, more!"
I also loved
Dog Days of School
by
Kelly DiPucchio
and
Brian Biggs.
Charlie does not like going to school (we all know someone just like this right Groovy Girl...) because he is tired of all the work. One Sunday night Charlie wishes he were a dog so he could stay home and lay around instead of face another week of school work. The next morning Charlie's done the "freaky friday" thing and is laying on Norman's dog bed instead of in his own. Norman gets ready for school and Charlie stay home to sleep with adorable results. This will have everyone wishing they could trade places just for one day. An interesting side fact-Brian Biggs is from Little Rock, AR. He also has a a series out called
Everything Goes.
Arlo Rolled
by
Susan Pearson
and
Jeff Ebbeler
; Arlo is a pea and he doesn't want to be eaten; he wants to grow up. He escapes from his pod and rolls through the yard finding bugs and slugs and dogs until he's exhausted. While he takes a nap something marvelous happens to him. This is a perfect spring book to talk about plants and how they grow. It also makes a fun anytime read aloud with a lot adventure for one cute little pea.
Creamed Tuna*Fish and peas on Toast
by
Philip Christian Stead
; Amazing illustrations, funny story. Kids will think it is funny. I wanted him to try the creamed tuna fish and peas on toast first before discarding it; it's just the mother in me. I was hoping he'd end up liking it like green eggs and ham. Nope. Didn't happen that way but the layered illustrations and the bird antics make it worthwhile anyway. Philip's website has some
beautiful and free music
for your listening pleasure.
Little Lola
by
Julie Saab
and
David Gothard
; Lola starts her day with a to-do list and the last thing on the list is to have an adventure (as every day should). Heading off to school for the day her adventure is perfect until she spots a mouse in the classroom. Hilarious. I hope to see more of Little Lola as she has the right attitude that will have little ones thinking. Brand new husband and wife illustrator/writer team.
If you buy for a school, for yourself, for your lovely grandchildren-any of these would be amazing additions for reading over and over again.
What did you read this weekend?