I'm a summer kind of girl but I love much about spring and fall as well. I always hope for a bit of Indian Summer to hold me over so I'm a bit sad that we've jumped head first into winter-like weather. First, it rained a lot (way too much for fall) and the fall leaves are suffering (and the farmers). It's been very windy this weekend. Our rivers and lakes have flooded across bike paths and over roads which pushes people from their homes.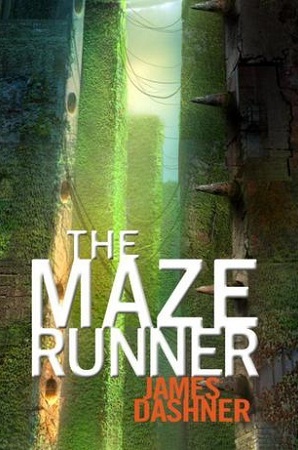 The only silver lining is staying inside and reading. I finished
The Maze Runner
, which has been on my to-read list for years. I really enjoyed it and am very curious about the next one in the series.
James Dashner
created a unique and weird dystopian world and I'm invested to know more about the maze and how it all came into being. I want to watch the movie and I brought the second book home from school. It's waiting, taunting me, but I have other books to read first.
One of my best readers at school showed me the book
Hideout
by
Watt Key
and told me he wanted me to read it when he finished. Last week he gave it to me and I promised to read it within the month. I actually skipped reading my book club book,
Pachinko
, to read Hideout. In my life, one thing leads to another all the time and now I want to read all of Watt Key's books. This one tells the story of Sam and how he finds a young boy, Davey while motoring his small boat around the bayou. Davey is living in a rundown shack and waiting for his dad and brother to join him. Sam agrees to help him fix up the shack and bring him supplies because it all seems like a great adventure until things become real. Sam discovers more than he needs to know about Davey's family and who they really are and once in it is difficult to get back out. I'll be happy to hand this book back to my student and help him find more of Key's books.
I started reading
Jewell Parker Rhodes
new book
Ghost Boy
, which tells the story of young Jerome as he navigates the world after being shot by a police officer in Chicago. It's a sad beautifully-told tale and I want students at my school to read it even though it is about a difficult topic. While it is sad the real message is; it's up to us to make real change. In my recent Social Justice class we discussed the importance of elementary students being aware of the real world around them. This book not only deals with death and grief but poverty, bullying, and the historical context of young black men as targets starting with Emmett Till. I've read all of Rhodes' other titles starting with
Ninth Ward
(Hurricane Katrina) and
Towers Falling
(911). She does an amazing job of bringing these tough topics to elementary students through her well-written books.
I just started
Harbor Me
by
Jacqueline Woodson
, which I received as a gift when I went to hear Woodson speak at the
Englert Theatre
. She was amazing to listen to and I would love to have lunch with her. I'm only two chapters in so I'll give you the back blurb for this one:
Six kids. One school year. A room to talk...
Once there were six of us.
We circled around each other, and listened.
Or maybe what matters most is that we were heard.
I hope you are giving yourself plenty of time to read this fall. I have to head outside to breathe the crisp air and get my bones moving often as well. Our new dog Ruby loves to romp in the leaves and run freely in the green space across the street. It is a joy to watch her play outside which helps to balance how I feel about her chewing habits.