The weather is still chilly here and this morning there were big fat flakes floating down. It looked lovely but I was too bleary-eyed to snap a photo. We made it through the week without one snow day though which will help us in June. We'll see what this week brings with more snow predicted.
[From Minimalist Baker}
I made two hearty dishes to keep us all warm and full this week. On Monday I whipped up
Minimalist Baker's Rich Red Curry with roasted vegetables
. We played with the ingredients and added tofu and regular brown lentils and left out the cabbage. This I will make again - the red curry sauce was delicious and would pair well with many vegetables. I used a mix of broccoli and cauliflower and swapped yellow potatoes for the sweet. We love sweet potatoes here but Groovy Girl does not like them mixed in with other ingredients. This recipe made enough that we had leftovers for the next few nights and even added it with brown rice into a tortilla for an on-the-go dinner.
Yesterday I was craving fish and found some raised-in-the USA cod, fresh in the glass case. It's very difficult to find quality fish-I don't want my fish to come from China-sorry China but you're not known for good fishing practices and I like my food to be a little more local. I already have issues about eating fish and pollution in the ocean and depleting numbers of fish in the ocean and for the most part have stopped buying fish and ordering fish when I'm out just for this reason yet yesterday I guess I was in the mood. I bought $20 worth of nice fat pieces of cod. It was delicious, tender and flaky with a little cracker crust and a lemon squeezed over the top. I loosely followed
this recipe.
We had baked sweet potatoes with our flaky cod fillets plus I made this lemon lentil soup for an appetizer but we ended up eating all at the same time. I got held up making the soup as I scoured my kitchen for my immersion blender which is missing. I love my Hamilton Beach immersion blender and I'm confused as to where it's gone. Anyway we used the big Ninja blender instead (more parts to clean) and this soup,
Lemony Lentil Soup,
was fantastic.
To match with my two new recipes I also I have two books to share. Cold weather always makes it easier to lay on the sofa and read, except lets be honest, any season has me sitting/laying somewhere and reading. I wouldn't be adverse to springing ahead to some hammock-time soon.
Less by Andrew Sean Greer
( 2017): The comical tale of Arthur Less, an accomplished author, who feels less than all the time. His current lover has left to get married in Sonoma and he takes this opportunity to plan via a few author invites for teaching abroad and odd award ceremonies to get away from his current Bay Area life. What follows is a wonderful travel journey in much the same vein as
Kerouac's On the road
but with planes instead of cars and gay lovers and wine instead of copious amounts of drugs. This is my first Andrew Sean Greer novel and I'm happy to be introduced. I can't wait to discuss this with my book group.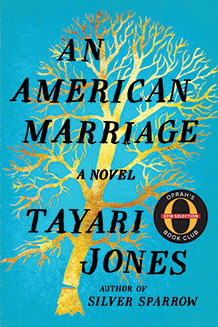 An American Marriage by Tayari Jones
(2017): Recently I was able to break away from dance mom week to see If Beale Street Could Talk which is a beautifully done film almost in an old noir style, slow and steady with great acting and a good background jazz beat. This book has a similar story line probably all too common in the racist world we live in. We have to realize this happens far more than we can ever imagine. Celestial and Roy, married for one year, find themselves separated by a prison door after one woman's rapid complaint against Roy who is innocent. Jones' writing is very easy to read and I'll have to go back and read Silver Sparrow.
Stay warm where ever you might be. I have friends headed to Mexico today and friends who just came back from a cruise. All I can do is bask in the winter sunshine flowing through the library windows.