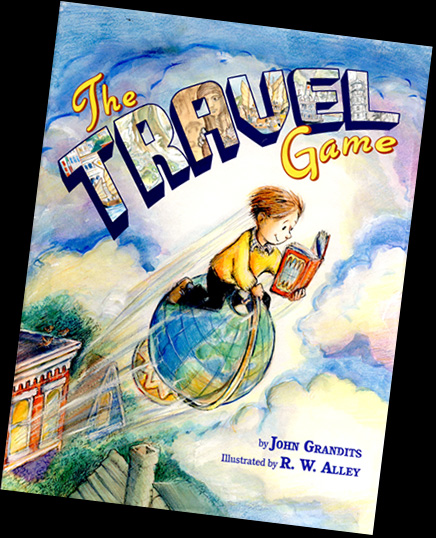 by
John Grandits
; illustrated by R.W. Alley
(2009)
I love this book!
Opening paragraph:
My family owns a tailor shop. It's on the first floor at 857 Broadway in the city of Buffalo, which you can find on the globe next to Lake Erie in the state of New York in the country of the U.S.A on the continent of North America.
Tad, our wee main character, describes the tailor shop and how the suits are made and how each family member has specific tasks to accomplish at the shop. Tad likes helping out at the shop but is enticed one day after lunch to play a favorite game with his Aunt Hattie. They use a globe and a book: 1001 Pictures from Around the World by George P. Smithers to begin globe-trotting. Aunt Hattie says:
"Okay, you close your eyes, and I'll spin the globe. Then you put your finger down, and that's where we'll go." (15)
When Tad points his finger down he's landed in the middle of the North Atlantic Ocean and so Aunt Hattie takes her turn. This next time they land in Hong Kong. They use 1001 Pictures from around the World (which, by the way,
is not
a real book, I checked) to research Hong Kong and what it looks like. You can't travel to some place and not have an idea of what it might look like since Tad admits he's never been outside of Buffalo. Aunt Harriet uses her vivid imagination and story-telling skills to help Tad visualize their exotic destinations.
This book is a must-have for my library in the fall and I have tons of ideas on how to use it. I plan to read it to 5th graders as an introduction to research and world geography. It will also work for discussions on imagination, community, family and visualizing. The illustrations are detailed and add to the coziness of the book. R.W. Alley is the same illustrator as
There's a Wolf at the Door
written by his wife, Zoe B. Alley.
Highly Recommended
5/5 stars
Picture Book
Author website-
John Grandits
Illustrator website-
R.W. Alley
Other reviews:
Katie's Literature Lounge
(she has an activity created to go along with this book)
Tasha at Kids Lit