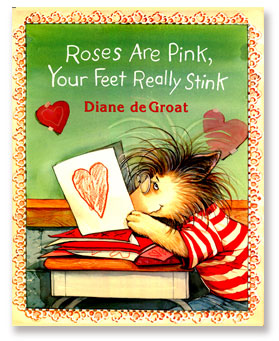 Here I was going to be good about writing a post every Friday with some of my favorites from the week. I had a librarian's district meeting today and completely forgot. I don't even know if I want to get into how the meeting was so I am just going to focus on the books.
1. Roses Are Pink, Your Feet Really Stink by
Diane de Groat
-read this to first grade students; I love Gilbert- he makes mistakes-this time he goofs up by writing two mean Valentine poems to classmates. This is a great book about making choices and making amends. Kids laugh right when you read the title-you can't go wrong with that! 5 stars
2. Louane Pig and the Mysterious Valentine by
Nancy Carlson
-I read this to kindergarten and first grade students and they solved the mystery! I'm happy to report that at least one child in every class figured out just who gave Louanne her BIG Valentine. But I have to admit I love all the other silly answers that the other kids give...like it was a DOG, her mom (even after it states in the book that the sender was a guy, I know, crazy), Gilbert (yes.) , oh the joy of spontaneous children. Priceless. 5 stars
3. The Valentine Express by
Nancy Elizabeth Wallace
- Her books-all of them-are beautiful. I love their craftiness (i'm not) and their simple yet delightful themes. Valentine's Day is not just for romance but for showing how much we care for our friends, parents, and neighbors and this book gently shares that with easily little crafts and caring bunnies. It's way better than Hallmark, really. 5 stars
Do you have Valentine books you love?
Kids love it but need to be reminded it is about caring about your friends and family not about the mushy stuff. Leave that to the teenagers, like my son who took it upon himself to locate and send flowers to his girlfriend-arriving on the day, a mixed bouquet. Hmmm. On that note I'm finishing my tea and heading to bed. Another busy Saturday awaits me.
**Stop back next Friday...I haveoh, so many Black History books to share.